[NEWSIS] [Uiwang News] The first nationwide demonstration of a smart fire response system, etc.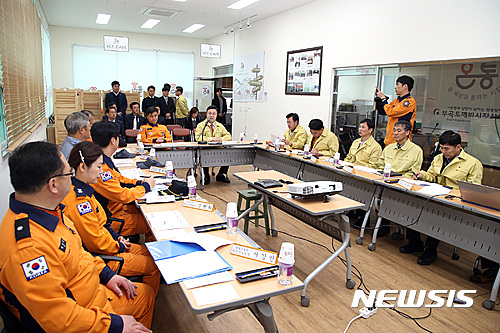 [Uiwang =◇ Newsis] Reporter Kim Kyung-ho =◇ First nationwide demonstration of building a smart fire response system
Uiwang-si, Gyeonggi-do, has established a smart fire response system for the first time in the country and started pilot operation.
The city announced on the 5th that it has established a smart fire response system in which fire trucks can be dispatched without reporting 119 in Bugok Dokkaebi Market, a traditional market, in cooperation with Uiwang Fire Station.
Existing fire detectors were dispatched only when the fire detector reported to 119, but fire detectors installed in Bugok goblin market usually automatically send signals to the fire station's situation room to check the safety of the real-time site.
It is a smart fire response system that automatically notifies the store owner, fire department situation room, and city hall situation room at the same time when a fire breaks out, enabling quick initial response.
In the event of a fire, the fire place can be accurately known and dispatched, reducing departure time, and minimizing human and property damage by reducing the time wasted on the site.In addition, Wi-Fi functions are also integrated, which is expected to relieve inconvenience of using Wi-Fi in traditional markets.
The city plans to adjust the sensitivity of fire detectors to suit the characteristics of each store, including stores that use fire and stores that do not use fire, and expand them to all 130 stores in Bugok Dokkaebi Market in May.
Meanwhile, the city evaluates that Uiwang City, Uiwang Fire Station, and market stores respond to fires together as a series of large fires in traditional markets such as Seomun Market in Daegu, Yeosu Fish Market, and Sorae Port in Incheon have caused a lot of damage.
◇Operation of hiking trail patrol
Uiwang Police Station decided to operate a hiking trail patrol from April to November.
Uiwang Police Station announced on the 5th that it will operate a hiking trail patrol to ensure women's safety on the trail as a special measure suitable for local conditions, considering that 86.5% of the local area is green belt, including Moraksan Mountain and Baegunsan Mountain.
As a result, Uiwang Police Station conducted a hiking trail patrol at Moraksan Mountain on the 1st by about 20 people, including police officers and civic police, at Uiwang Police Station to commemorate the start of the hiking trail patrol.The patrol was conducted as part of community security with residents to create a safe Uiwang city.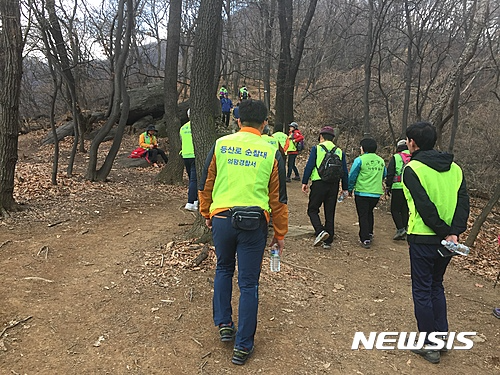 Police activities were promoted to hikers, and emergency bells in public toilets located at the entrance of the trail and location plates to know and report the exact location in case of an emergency were checked.
Meanwhile, the Uiwang Police Station hiking trail patrol will be operated at all times, centering on local police resource workers, and on holidays, it will be operated with local residents such as police resource workers and citizen police volunteers.In order to secure visibility while working, he will wear a vest that can be recognized as a police officer and promote police activities to achieve crime prevention effects.
◇ 2017 Uiwang City Hall Cherry Blossom Festival will be held from the 8th to the 9th.
On the weekend of early April, when spring began in earnest, the 2017 Uiwang City Hall Cherry Blossom Festival will be held for two days from the 8th to the 9th in Uiwang City Hall Cherry Blossom Road, where brightly bloomed cherry blossoms give joy to Uiwang citizens.
Organized by the Uiwang Branch of the Korea Arts Federation, the cherry blossom festival will feature a series of exciting events such as the 4th Uiwang Cherry Blossom Citizen Song Contest, the 21st Youth Writing and Painting Contest, and an open stage for citizens to enjoy the spring atmosphere.
The city has installed night lights on the cherry blossom road of the city hall since the 1st to boost the festive atmosphere.
Music broadcasts are being broadcasted through speakers around the cherry blossom road and parasols are installed.A special stage will also be created for performances in large parking lots and cherry blossom roads at City Hall.
At the Citizens' Singing Contest, which will be held from 3 p.m. on the 8th, the first day of the festival, 10 citizen representatives who made it to the finals will compete for generous prize money and products such as 1 million won for the best prize.Citizens with various talents, including cultural organizations, ordinary people, music clubs, community centers, and performance clubs of lifelong learning institutions, will perform various performances on the small stage held by citizens on the afternoon of the 8th and 9th.
The experience booth in the parking lot of the mineral spring will also have mysterious experiences such as tattoo nail art, caricature, and making book story, while the Uiwang Rail Bike promotion booth will also have a promotion hall to guide the Wangsong Lake Rail Bike.
URL : http://news.naver.com/main/read.nhn?mode=LSD&mid=sec&oid=003&aid=0007873518&sid1=001&lfrom=kakao